Maybe you just found out you're pregnant and you can't resist researching all the things already, or maybe you're in your 3rd trimester and just now realizing you should get started on some baby prep...either way, I'm glad you are here! Believe me, I get it! I am a first time mama, currently waiting on our baby girl (38 weeks as I write this!), and I just wanted to share what I ended up deciding to pack in my hospital bag(s) based on recommendations from friends, my doctor and from way too many articles online (Pinterest is a blessing and curse during pregnancy!). IYKYK. I will try to remember to come back and tweak or do a part two once I've put my hospital bag to use and see what I actually end up using! And if you're just here for a simple checklist, I put one of those together, just skip to the bottom for a free download :)
Disclaimer: Some links included in this article are affiliate links, which means I make some money when you purchase through them at no extra cost to you. Win win!
Let's start with the basics: clothing for mama
A Comfy Robe: This one came highly recommended on Amazon for your stay in the hospital. It's super soft, modest and has pockets! The material is on the thinner side, but I assume this will be nice for layering and to make sure you don't get too hot.
Button Down Nightie or PJ Set: The emphasis here is coziness and nursing/skin-to-skin accessibility. I ended up finding one at the thrift store (definitely recommend thrifting whenever possible because costs add up during pregnancy!), but this one was one of the top recommended on Amazon. I even ordered it and tried it on and it's so soft and cozy! I just wanted something a little bit thicker, but that was just my preference.
Undergarments: Yeah, these are important during pregnancy, postpartum and beyond! I came across the brand Kindred Bravely during pregnancy and fell in love. They are such an amazing mama brand and their clothes are high quality and very comfortable. My favorites are their Bamboo Hipster Panties that I know I'll be wearing beyond pregnancy (the black and pink pairs shown below). I recommend going with their 3 pack because you'll be wanting to order more once you try them on anyways (the links for Kindred Bravely will get you 20% off your first purchase! You will not regret it.). I also like this set on Amazon that are a bit more affordable if you need to stock up (the grey pair shown below). The reviews recommend these for tummy support during postpartum and I can see how they would be great for that, but they also fit well in my 38th week of pregnancy.
Comfy Nursing Bras: I started wearing nursing bras throughout pregnancy since I needed to get some comfier (and bigger) bras anyways. My favorites have been this one from Target (more support, good for everyday use) and this one from Kindred Bravely (more soft and comfy, good for around the house).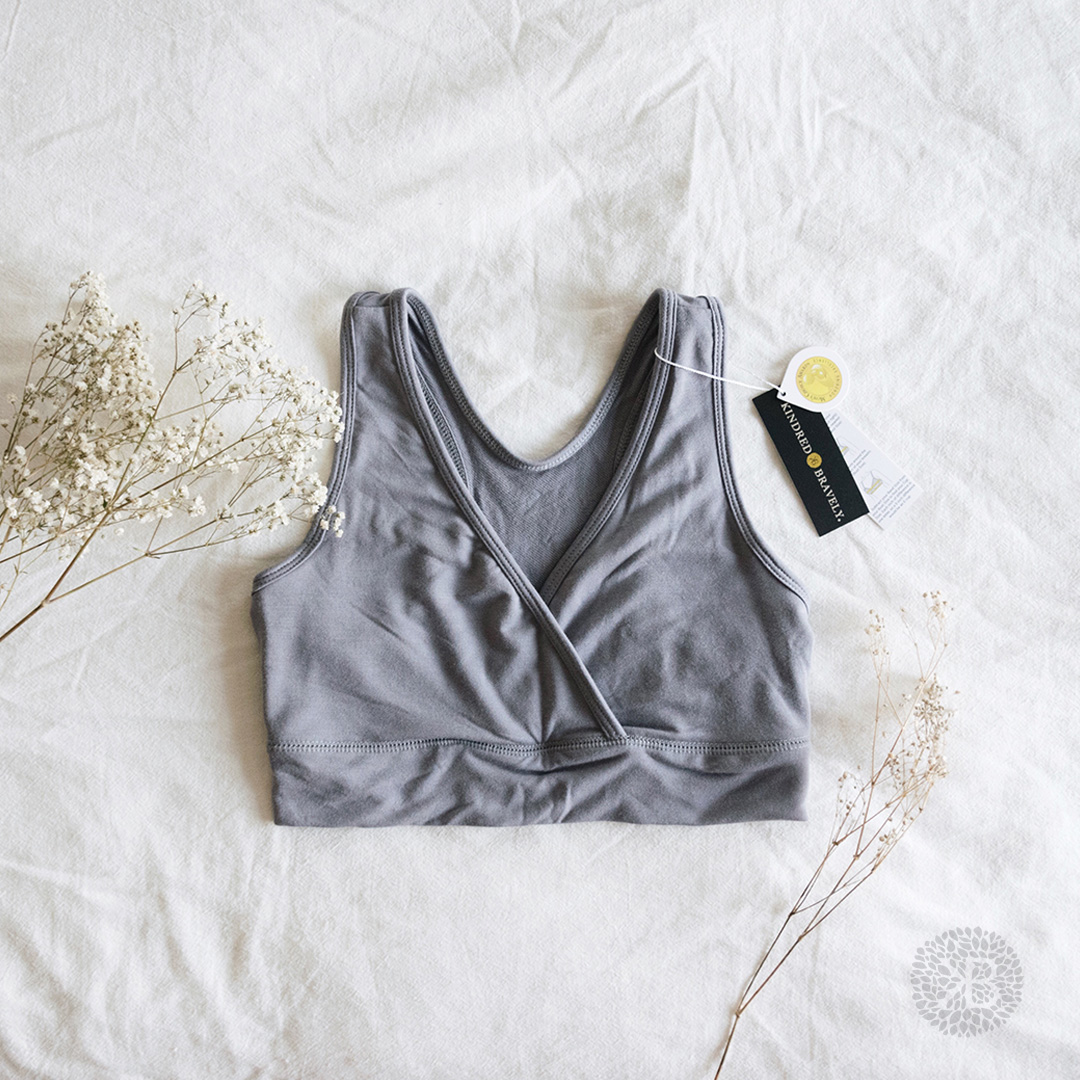 Change of clothes (or two): I have one change of clothes assuming I'll wear a comfy outfit to the hospital and wear my pj's and robe while I'm there. I have loved these Maternity Mid-Rise Drapey Jogger Pants from Target and will probably wear them to and from the hospital. They are soft around the belly and have pockets! I literally wear them all the time.
Slippers and cozy socks: I just picture walking around the hospital and wanting to keep your feet clean and cozy. Also I always hear it's nice to have cozy socks for during labor in case your feet are cold.
Nursing and Postpartum Gear:
Nursing pads: I have some reusable pads (like these ones) but I put some disposable ones in my hospital bag for convenience.
Nipple butter: The Earth Mama brand comes highly recommended and is made with more natural ingredients.
Breast Gel Pads: Someone gifted me these Lansinoh Soothies Breast Gel Pads and I think they will be very handy to have.
Nursing pillow: I wasn't sure it would be worth lugging the pillow with us, but my doctor confirmed that it would definitely be worth having as you get used to breast feeding your little one while also being exhausted from labor. The one I got is from Snuggle Me Organic and is so cute! I got a cover for it on Etsy here.
Frida Mom Perineal Cooling Pad Liners
Perineal spray: Another product from Earth Mama that I've heard great things from!
Adult diapers: I've heard from a lot of mamas that the adult diapers are more comfortable than using the huge postpartum pads. Depends has been the brand I've heard the best things about, but there are lots of options out there! Silhouette is another one.
Maternity pads: These are another thing they should provide at the hospital, so I'm only bringing a few to be safe. NaturaCare is a great natural option for pads. I stocked up for those postpartum days at home.
Misc. Items
Essential Oils: Instead of trying to make my own blend, I got some pre-made rollers from Etsy that I'm so excited to have on hand for labor and recovery! I got the Labor Assist blend and the Uplift Mama Blend. I thought trying to bring a diffuser in might be cumbersome, so the rollers should work great for bringing some good smells and energy into the room.
Toothbrush and paste: I packed some disposable tooth brushes for me and the hubs in my bag so I don't have to remember to grab mine on the way out.
Lip balm: I hear this is a must for during labor! Maybe bring a few to be safe.
Face wipes: I'm all for anything that'll make freshening up a little bit simpler.
Water Bottle
Snacks: I have a whole tote bag filled just with snacks. It might be overkill, but I take snacks very seriously. I hear these may be mostly for your partner but that you'll probably be really hungry once your babe is safe and sound outside of your tummy!
Sleep masks: I actually don't know that I saw this recommended, I just thought it might be something handy to have.
Pillow and blanket: I probably won't be bringing these, but it is recommended for your partner to bring something to help get comfortable in the hospital recliner that may be their bed for a while. They should have blankets available at the hospital, but that would be a good question for your doctor!
Chargers: Phone charger and maybe an external charger. People have said that long ones are best in case the outlet isn't close to your bed.
Tripod: Okay, this is something I thought up myself. Since it will just be me and my hubby in the hospital, I just thought it might be handy to have a phone tripod to snap some photos while we are there and maybe even use to get a video. No idea if I'll actually end up using it, but I'd rather be safe than sorry when it comes to documenting those precious first moments! This is the one I have.
Verse/Affirmation Cards: I saw this a while back and knew it was something I'd love to have. I wrote out verses, affirmations and misc. tips for labor that I new I'd want to reference back on scrap paper then hole punched them and used a binder ring (like this one) to hold them together.
For Baby
I am simply packing up our diaper bag with a few essentials for baby.
Clothes:
A couple outfits: To be honest, I am probably bringing too many clothes since I've been told they won't need much at the hospital. I packed a couple cute items that could be good for photos and/or the going home outfit along with a couple onesies, tops and pants (I brought a pair of newborn pants and a pair of 0-3 months just in case the newborns are too tight on her). I've read that tops vs onesies might be nice to keep from irritating the unbiblical cord, so I added some long sleeve tops that are easy to open from the front. I'll be very curious to see what we actually use!
Scratch mittens: or a top that goes over their little hands to help prevent them from scratching their little faces. I got mine from Goumi and they are so cute!
Booties/Socks: A little something to keep their feet warm, especially for when you bring them home if it's winter! Goumi has some great booties, or some simple socks like this would be good.
Hat/Bows: Since we'll be bringing baby girl home in the cold Upstate NY winter, I threw in a hat for her drive home. And bows are just for that cuteness factor and photos if you plan to take some!
Diapers + Wipes: No need to go crazy on these since the hospital will provide them as well, but it's time to get used to taking diapers everywhere anyways, right? And for wipes, I just threw in some of the sample wipe packs I got throughout pregnancy just to be safe.
Wet/Dry Bag: For any dirty baby laundry you'll inevitably need to take home with you. I have this one from Parker Baby Co and love it!
Burp Cloths: Just common sense I think...
Stain Remover: I use Branch Basics for our baby laundry and use their All-Purpose Spray to help pre-treat stains, so I figured it wouldn't hurt to have their travel sized bottle on hand just to be safe. Get $10 off your order here! They are an amazing, eco-friendly and baby friendly brand that is great for cleaning anything from laundry to your baby!
Diaper Cream: I just threw in a sample size I got from a baby box just in case.
Swaddle Blanket: I've been over thinking this one a lot since we were gifted so many cute blankets. Gotta love the pressure on the first blanket they ever use!
Name card for their first photos: Don't overlook this one! If you want one of those photos in the hospital with their name and maybe their weight etc. then plan ahead for that. Whether it's a letter board or just a piece of paper. I found some adorable milestone cards from Shop Love Found.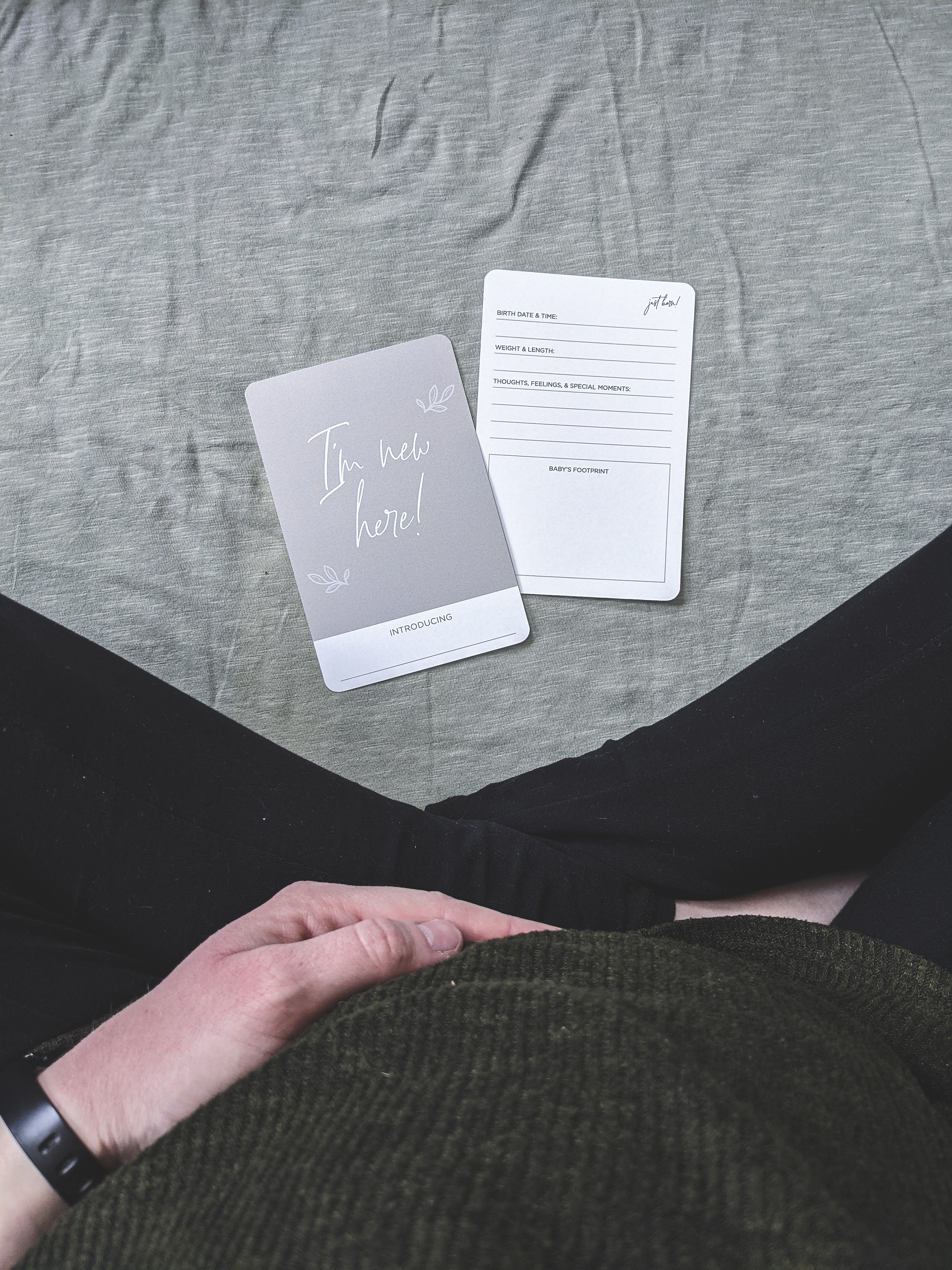 I made up a little printable checklist with the full list of essentials for all my list-loving peeps out there. You can snag that here! Mamas who have been through this before, I'd love to know what you found to be essential to have at the hospital! I'm a newbie, so I'll be very curious to see how much of this stuff I end up being happy to have and how much I end up laughing at later. Wishing all you mamas out there the best!! We're all in this together! I'd love to connect with you on social media if we aren't connected already! You can find me on Instagram at @miscdelightsco :)
Have you started a Pinterest board for all things baby?? Pin now to refer back to later!